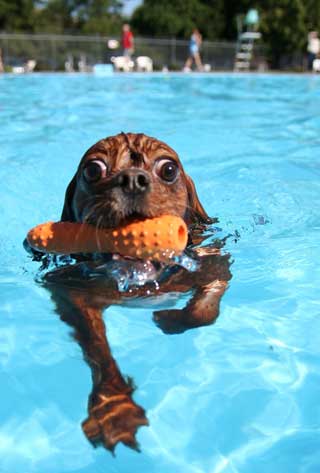 So you've survived your first triathlon swim …….. now what's next?
Hopefully you're looking towards your next challenge and potentially increasing the distance a little and seeing what your body can really do.
Personally, I had set myself a two year goal to enter (and of course complete) the Noosa Triathlon. For those who don't know, Noosa is an Olympic distance event with a 1.5km swim as the entree. Hmmmm how the hell was that gonna happen?
The simple answer was ……. Practise practise practise.
Over the following year I hit the pool as much as I could and entered another 6 sprint distance or smaller events so I could be confident in swimming anything up to 750m during an event. All the while building the distance towards the 1.5km mark in the pool.
However, towards the end of the season I kept being asked if I was going to enter the Mooloolaba Tri (another large olympic distance event on the Australian calendar) which was in March. Now this was never in my plan, but with so many people suggesting I should give it a go it soon became a consideration. "Could I do this?, "Am I ready?" "Maybe I could!?".
Thankfully the club I was training with at the time said they were going to do a practice Mooloolaba session prior to the event. This presented me with a chance to "try before you buy" which was perfect. They were going to drive to Mooloolaba early in the morning, do the full swim course followed by a 25km ride along the cycle course followed by a 10km run.
The day of the practice saw us wake to a beautiful warm morning with a slight breeze. Despite the fact that I had never swam in the ocean before ….. I was pumped. How hard could it be? Let's do this!
Well let's just say up front that swimming in the ocean is completely different from swimming in a lake. Not only is the visibility poor but you're now having to contend with swell and waves !!! I managed to get out past the breakers easily enough as I'd been to the beach and body surfed many times. However, it's when I turned to swim parallel to the beach that I entered into unfamiliar territory.
Firstly I can only breath on one side, my right. Guess what side the waves were breaking on me? …………. Yep, from the right. Secondly, the swell made it hard to see where we were going. It seemed that every time I looked up there was a wave in the way. Ahhhh this ain't fun guys. Thankfully one of the gun swimmers in the club came back to check on me every now and then as by this time there was a considerable amount of distance between myself and everyone else.
By about the half way mark (750m) my swimming had deteriorated to a combination of floating, breast stroke, side stroke and dog paddle. On top of that I was quickly getting tired and consequently my "freak-out-o-meter" was in the red.
I was done. I indicated to the others that I was going in and with that I turned and headed straight for the beach, floating on my back and bitterly disappointed that I couldn't make the distance. That was freakin hard and I was exhausted. I managed to complete the ride and only about 6km of the run before the body had enough. (I also knew bugger all about refuelling for this distance – but that's another story)
This was as real eye opener for me. Thankfully the Noosa swim is held in canals sheltered away from the ocean swells as I had a long way to go before I could attempt that again.
Over the next few months I swam as much as I could to ensure that at the very least I knew I could swim the 1.5km distance. But when November came around and I was on that start line, I was still as terrified as I was when I competed in my first enticer race. (Check out Swimming Part 1) My heart started palpitating, I had butterflies in my stomach and of course I kept needing to go to the toilet.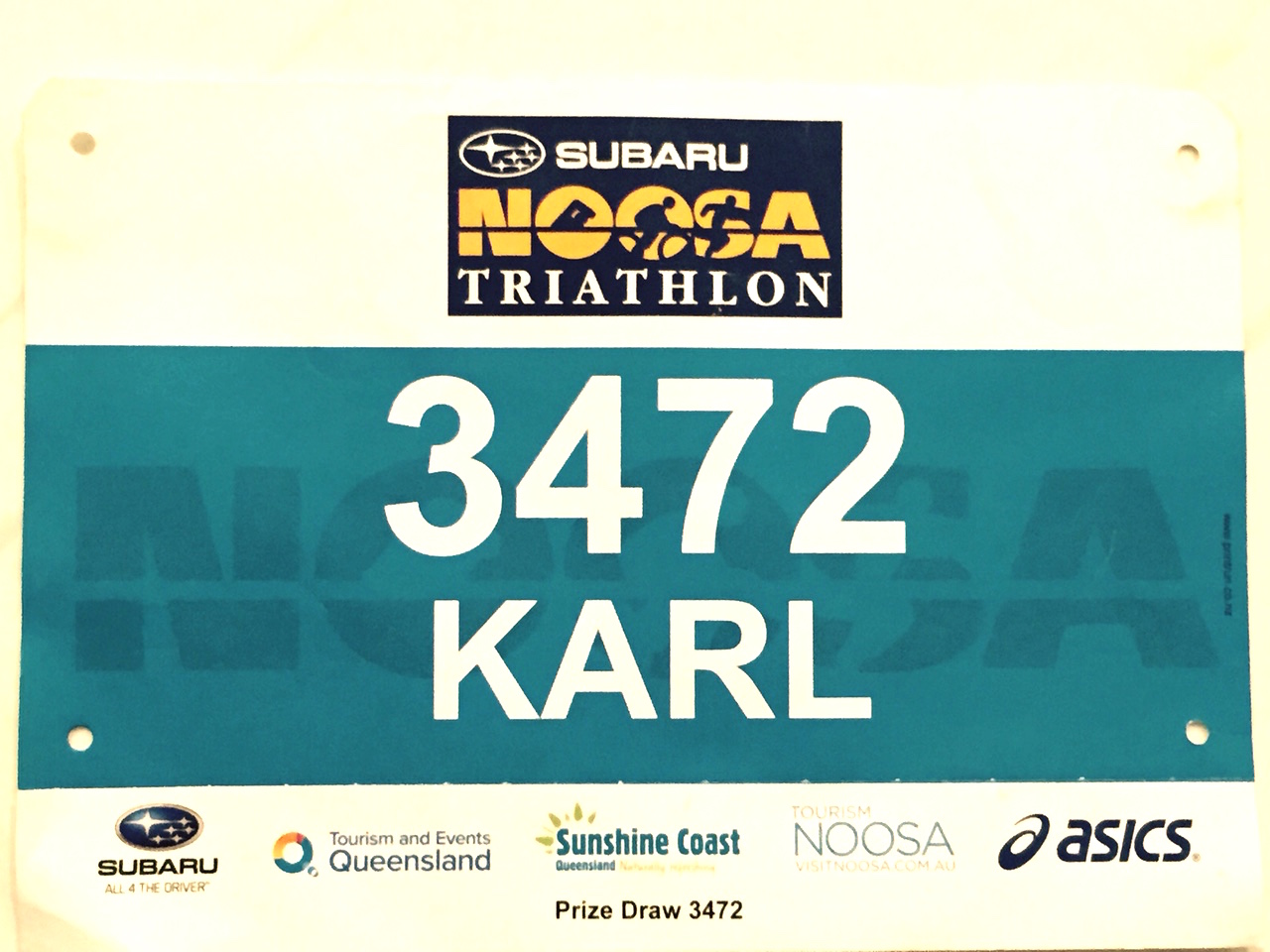 Amazingly once the gun went off a feeling of calmness washed over me. (And the constant need to pee faded) It was like my body knew there was no further need to stress, it knew that I could actually do the distance and there was nothing left to do but, well, just do it. (#Nike 😀) It also didn't hurt that the depth of the waterway was about 1m so at any stage I could literally just stand up if I got into trouble. In the end I emerged to take a quick glance at the Garmin and to my surprise had posted a 3min PB from anything I had done in the pool. "You fuck$ng beauty!!!!"
So what were my learnings from all of this?
Firstly I encourage you to read Swimming Part 1 – Who stole the black line. However there are some additional learnings while training for these longer events that I would also like to share:
The more you swim the more confident you get
not much more to say really. You just have to do the miles.
Swim fitness is different
just because you're fit and potentially a gun cyclist and / or runner you won't necessarily be "swim fit". Being fit enough to swim these distances and more requires specific training. So don't think you can rely on your existing fitness from other disciplines.
Don't fight against the waves, work with them or you'll get tired
feel the swell underneath you and breath at the top of the waves
Pace yourself
don't use all you energy up in the swim. There's a long bike ride and run to follow, so pace yourself and get into a rhythm that's comfortable and efficient.
Swimming is all about technique
swim smart, not hard, by working on your technique. Get a couple of lessons and even ask someone to video you swimming so you can check out what's going on.
Draft as much as you can
Take advantage of the people swimming past you. Get behind them for as long us you can and grab a quick lift. When they've pulled away, look for the next one.
Don't follow blindly
don't just follow the guy in front of you. He may also be lost. Practice your sighting and sight often. There's no need to add more distance to your swim by going in the wrong direction.
pick a land mark behind the buoy like a house or a tree and sight off that
sight at the top of the swell
Train with a squad
this is something I wish I started earlier. I never thought I was good enough to join a squad. I was scared and thought I would just get in everyone's way. This is crap! The whole idea of joining a squad is to stretch you and teach you to become a better swimmer. That's why they have the slow lane and the fast lane. We all have to start somewhere. So start now!
Mix up your intensity and recovery times
a squad will do this for you without you having to think about it. There are heaps of great resources and plans online but to get you started here are a few cool links to try:
http://www.swimming.org/swimfit/swimfit-training-plan/
http://www.active.com/triathlon/articles/a-swim-training-plan-for-beginner-triathletes
http://fittrack.co.za/TrainingPlan/Swim%20Training%20Plans.aspx
A couple of years down the track and I've slowly increased the distance I can swim to the point where I recently completed a 2km ocean swim, complete with a period of breast stroke and dog paddling.
Everyone has to start somewhere and it's amazing what your body and mind can do despite the set backs you may experience along the way. So I encourage you to find a squad, join in the fun, and let your body surprise you.
Keep Smiling Tri Monkeys
CLICK HERE TO SUBSCRIBE